A Children's Trail is an experience for children, led by a question sheet  that guides them and accompanying adults around a church and encourages them to engage with the architecture, history and furnishings. Arts Society members voluntarily give their time to research and write the questions and corresponding answer sheets. The aim is to encourage 8-12 year olds and their families to learn about the building and inspire them to visit and enjoy other churches.
Children's Trails are researched, written and designed in a child friendly format. They are produced on two-sided A4 sheets to keep the cost of production to a minimum.
Once a trail has been tested, the  members provide a CD and hard copy of the questions and answers to the church. The local  Arts Society bears the small cost of making the trail and setting it up in the church. The church then funds the maintenance of supplies of the trail.
Right now there are seven trails completed with one just  beginning. 
If you are thinking of devising a trail in your church for children aged 8-12 years of age, why not contact Ann Beaton who is delighted to meet with you and offer any assistance you may need. Click on the Contact button on this page and her details will be sent to you.
Further information about NADFAS Children's Trails for Churches and Schools
Here are 5 examples of Children's Trails in the Chiltern Hills Area
St John the Baptist, Little Missenden, Buckinghamshire HP7 0QY               The Trail                      The Answers                                    
St Dunstan's Church : Mill Lane, Monks Risborough, Buckinghamshire, HP27 9JF           The Trail              The Answers
Great Missenden: St Peter & St Paul :  Great Missenden, Buckinghamshire, HP16 0QR     The Trail         The Answers
Bledlow: Holy Trinity : Church End, Bledlow, Buckinghamshire, HP27 9PD   The Trail           The Answers
St James's Church, Fulmer, Buckinghamshire SL36HW          The Trail            The Anwers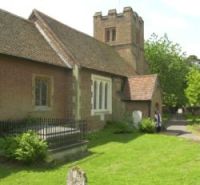 St James the Great, Bierton
The Parish Church of St Giles, Chalfont St Giles